Supporting Our Citizen Warriors
Posted August 2012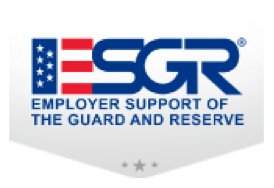 The U.S. Department of Defense recognizes employers who support their Guard and Reserve employees with an Employee Support Guard and Reserve (ESGR) Award. In 2012, PSA was honored with two ESGR Awards – The Above and Beyond Award and the Patriot Award.
The Above and Beyond Award is the highest award presented to a limited number of agencies by the State Chair and recognizes employers at the local level who have gone above and beyond the legal requirements of the Uniformed Services Employment and Reemployment Rights Act (USERRA). PSA's award was based on the nomination letter submitted by Colonel Michael Arizmendi, PSA's Court Services Deputy Program Director, documenting how PSA and its former Director, Susan Shaffer, have supported him and other employees on active military duty. The award was presented by a 2-Star General at a public ceremony honoring peer agencies.
The second ESGR Award is the Patriot Award, which recognizes individual supervisors as nominated by a Guardsman or Reservist employee for support provided directly to the nominator. For this award, First Sergeant Dagmar Torres, Diagnostic Pretrial Services Officer, nominated Tracey Palmer, Diagnostic Unit Supervisor. Ms. Shaffer and Ms. Palmer were recognized formally by ESGR at a ceremony held at PSA.
Says ESGR, "Our Nation has relied heavily on Guard and Reserve service members since entering continuous operations more than a decade ago. Employer support enhances retention rates in the Armed Forces and in the end, strengthens our national security." PSA is honored to be recognized in this way and will continue to supports its Citizen Warriors.