PSA Rocks the Hall of Fame
T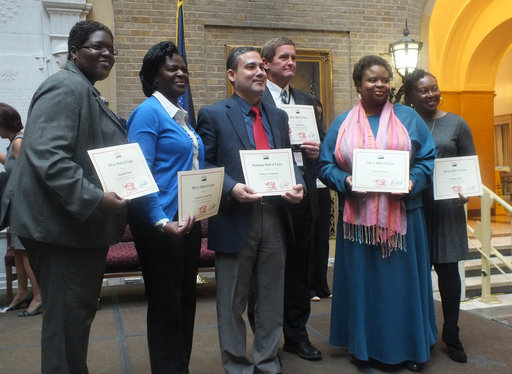 he summer of 2013 was record-breaking for the Feds Feed Families campaign. Collectively, federal employees donated nearly 9 million pounds of food and other non-perishable goods to local food banks, up from 7.2 million in 2012.
Federal employees celebrated their achievements at the Feds Feed Families closing ceremony on November 13, 2013. "Everybody pretty much met their goal, but some went above and beyond," said Doug Keeler, the national program manager for Feds Feed Families. Federal employees "want to help fix America. They've always been committed to it," Keeler said. "And that's why with sequestration, with furloughs, with all that's going on, with the government shutdown, federal employees were still giving."
PSA is considered a "petite agency" and we far exceeded our donation goal with a total of 2,771 pounds. A significant portion of this was accomplished by the generous donations of individual employees. At the closing ceremony, Keeler and Krysta Harden, deputy secretary of Agriculture, presented awards to employees and agencies who far exceeded their goals, which included seven PSA employees who made it into the FFF Hall of Fame. These include Shareda Smith, a PSO in the SSAC; Jocelyn Harris, a Forensic Toxicologist in the Lab; Michael Arizmendi, Court Services Deputy Program Director; Rashida Mims, Treatment Program Special Assistant; Leontyne Fredericks, Treatment Program PSO, and PSA Director, Cliff Keenan. Raeford Grice, a Software Engineer in the Office of Information Technology, was serving on active duty and unable to attend the ceremony. The generous donations from these individuals totaled 2,477 pounds. Collections were donated to the Capitol Area Food Bank.
*In photo from left to right: Shareda Smith, Leontyne Fredericks, Michael Arizmendi, Cliff Keenan, Jocelyn Harris and Rashida Mims. Raeford Grice was on active duty and not present for the photo.